PLEASE TELL ME ABOUT PLACES IMPORTANT TO YOU

Grandma Marilyn was born in Brooklyn...I like Brooklyn, itís an interesting place. I also love Southern California and Cape Cod, Massachusetts.
---
WHAT COUNTRIES DID YOUR FAMILIES ORIGINALLY COME FROM?
My maternal and paternal grandparents came from Russia.
---
DO YOU KNOW WHEN AND WHY THEY MOVED HERE?
Most Jewish families in Russia in the late 1800ís left because of anti-Semitism. They came to America for a better financial life and to be able to have religious freedom.
---
DID THEY BRING ANY TRADITIONS WITH THEM?
They remained very close to family. My grandfather went to the Temple, they cooked traditional meals, and lit Sabbath candles. My Grandmother Minnie only spoke Yiddish.
---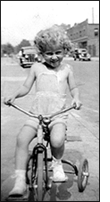 WHERE AND WHEN WERE YOU BORN?
WHERE DID YOU LIVE WHEN YOU WERE GROWING UP?
Grandma Marilyn (Scholnick) was born August 18, 1939 in Brooklyn, N.Y. at the Jewish Hospital; I believe it was on Prospect Place and Franklin Avenue. From birth until age 16 I lived at 1692 Park Place between Ralph and Howard Avenues. We then moved a few blocks to 1580 St. Johnís Place, off Buffalo Avenue. It was a two family house that was shared by my Uncle Milty, Aunt Dotty, Philip and Melvin Greenspan. Uncle Milty owned the house. I lived there until December 28, 1958 – when I married Grandpa Joe and moved to 6801 21st Avenue.
---
TELL ME ABOUT THE FAMILY HOME YOU REMEMBER MOST
I remember all places vividly. Park Place was a small three-room apartment in a three-story walk-up building. St. Johnís Place was a six-room flat facing a busy street, opposite the Congress movie theater and Unity Hospital.
---
WHAT WAS YOUR ROOM LIKE?
DID YOU HAVE TO SHARE IT?
I always shared a bedroom with my sister Francine. We had two small chests with a wall closet. I always had pictures of movie stars and singers and dancers in my room. Francine and I were neat. My mother (your great-grandma "GG" Millie) made us clean our room and keep our clothes and books neat.
---
DID YOU HAVE A SPECIAL PLACE YOU LIKED TO GO WHEN YOU WERE A CHILD?
I loved to go to the movies..that was my favorite place. I also liked roller-skating in an indoor rink. In my early teens I went to Ebbets Field to watch the Brooklyn Dodgers (a baseball team). My favorite player was the centerfielder Duke Snider (#4). I became the President of his fan club and at times baby sat for his children.
---
WAS THERE ANY PLACE THAT WAS SCARY?
I canít remember a scary place. Some movies were scary and I would have a nightmare from that. I can only remember that when my friends and I went to the beach (Brighton Beach) I was afraid to go over my head in the ocean. And I was afraid of cats.
---
WHERE DID YOU GO TO SCHOOL?
P.S. 144 ( Prospect Place and Howard Avenue) from Kindergarten to 6th grade.
John Marshall Junior High School (#210) – Park Place.
Thomas Jefferson High School – Pennsylvania Avenue and Dumont Avenue.
---
DID YOU LIKE SCHOOL?
Yes, very much. I always liked geography and history. Especially studying maps of the U.S.A. and the world.
---
WHICH SUBJECT WAS YOUR FAVORITE?
History and geography. I also liked my penmanship class.
---
WHAT SCHOOL ACTIVITIES DID YOU ENJOY?
In public school I liked art classes, music, cooking, basketball, gym exercises, class trips to museums, Chinatown, parks.
I liked jumping rope with my friends in the schoolyard. I also liked to climb...my friends and I would climb trees and fences in my backyard.
---
DID YOU HAVE A PART-TIME JOB? WHERE?
HOW MUCH MONEY DID YOU MAKE?
I baby-sat and made 50 cents per hour. I worked part-time for Par Motors (they repaired cars). I answered the phone, made appointments and took cash. I made 75 cents an hour.
I also worked for a company that collected money from people who bought furniture on time payments. I sent out the bills for $1.00 per hour.
---
WHERE DID YOU SPEND HOLIDAYS AND OTHER VACATIONS?
As a small child (about 8 years old) I went to Camp Sussex in New Jersey for three weeks during the summer. I was very homesick. My parents also had a bungalow in Monticello when I was a child. Most of the time I was home and played with my friends.
---
WHAT KINDS OF ENTERTAINMENT DID YOU ENJOY?
I loved going to parades with my father. I was very happy when my family got a television set. I went to the movies often. As a child I remember enjoying reading the Daily News and Daily Mirror newspapers. They cost 2 cents apiece. I also played a lot of games with my friends.
---
WHERE DID YOU MOVE WHEN YOU LEFT YOUR FAMILYíS HOME?
HOW OLD WERE YOU THEN?
I moved from 1580 St. Johns Place (between Buffalo and Rochester Avenues) in December 1958 when I got married to Grandpa Joe. We moved to 6801 21st Avenue in Bensonhurst, Brooklyn.
I was 19 years and 4 months of age.
---
WHERE WAS YOUR FIRST FULL-TIME JOB?
Chevette, Inc. 135 Madison Avenue in New York City. The company manufactured ladies lingerie. I began in August 1957 and left in March 1960 when I gave birth to your mom, Ilene Jane, on March 30, 1960.
---
WHERE ELSE HAVE YOU WORKED?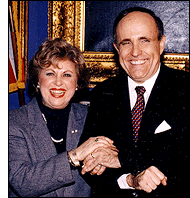 Over the years I have had many jobs in all different fields. After I married and gave birth to Ilene, Bruce and Steven I stayed home raising a family until September 1972. Then I worked in Kings Bay Pharmacy (Nostrand Avenue, Brooklyn) until June 1978. Then for Dr. Fleisher, a dentist on Avenue M., until 1980. From September 1982 until May 1986 I worked for Herbert Bedell, a lawyer at 26 Broadway, and then for the United Artists Movie Theater company when they were constructing a movie complex in Sheepshead Bay, right across the street from my house.
In 1994 I did some volunteer work for NYC (The Mayorís Office of Film, Theater and Broadcasting) and then was hired for Mayor Giulianiís Office of Special Projects. Now as of June 1997 I am working in special events for the Audrey Hepburn Childrenís Fund.
---
WHERE WAS YOUR FIRST HOME AFTER YOU MARRIED?
WHAT WAS IT LIKE?
6801 21st Avenue in Brooklyn (between Bay Parkway and 21st Avenue). It was a small one-bedroom apartment on the lobby floor of an apartment house. Thatís where we met Joan and Arnold Godlis. When Ilene was born we put her crib in our bedroom. It was a very nice first place to live. We had wonderful neighbors; all young families with lots of kids in the building. It was a convenient neighborhood to shop for food, clothes, toys, books, etc. The subway was close by, also buses.
---
DID YOU RAISE YOUR FAMILY THERE?
Yes. Ilene was born March 30, 1960, Bruce was born on November 29, 1962, and Steven was born on July 29, 1964.
We lived at 6801 21st Avenue during that time, and Ilene attended kindergarten at P.S. 205 on 20th Avenue.
My friend Adele Krigsman lived on Stillwell Avenue, within walking distance, and we saw each other very often. Her sons were Ira and Howard and we spent a lot of time together with her sons and my kids. It was a very busy, happy time in my life.
We moved to 3855 Shore Parkway in Sheepshead Bay, Brooklyn on June 27, 1966.
---

TELL ME ABOUT THE PLACES YOU VISITED.
A lot of the East Coast.... Maine; New Hampshire; Vermont; Rhode Island; Boston, Cape Cod, Marthaís Vineyard and Nantucket in Massachusetts; Connecticut; Pennsylvania; New Jersey; Upstate New York; Washington, D.C.; Virginia; Delaware; Virginia; Hilton Head Island, North Carolina; Charleston, South Carolina; Savannah, Georgia; and Florida. I also visited Kansas; Missouri; Texas; Nevada; Arizona; California; Mexico; England; France; Italy; and Canada (Montreal, Quebec, Toronto).
---
IF YOU COULD GO SOMEPLACE YOU HAVENíT BEEN, WHERE WOULD IT BE AND WHY?
Israel – to see the development of the country.
---
WHERE IS YOUR FAVORITE PLACE OF ALL AND WHY?
I love the Southwestern part of the United States, particularly California...I also love New York, and Italy was a fabulous trip; the country was beautiful.
Actually, I really loved just about everyplace I ever visited. I canít forget the Isle of Capri...that was a special place.
---
WHERE WERE YOU WHEN I WAS BORN?
When Barbara was born I was lucky to be in the birthing room at Yale New Haven Hospital (in New Haven, Connecticut) and viewed her birth. It was awesome! Iíll never forget that sight as long as I live...I even photographed her birth...
When Michelle was born Grandpa Joe and I were in Orange, Connecticut at Uncle Murrayís house. We got a call from Ilene at 8:30 a.m. Sunday November 26, 1989, giving us the great news that we have another granddaughter. We were thrilled!
We quickly dressed and hurried to New Jersey to meet out new addition and see Ilene, Lou, and Barbara.
Michelle Fran was named for her maternal great-grandmother Millie (my mother), and Francine, her great-aunt and my sister.
Millie was born in Manhattan on August 26, 1915 and died of cancer at age 73 Ĺ years on January 6, 1989.
Millie was the daughter of Minnie Goldstein Greenspan and Benjamin Greenspan, both born in Russia. Minnie was born in 1890 and died April 4, 1934 (44 years of age). She went into a diabetic coma at home with her six (surviving) children. (NOTE: She previously had seven other children that didnít survive infancy) and passed away by morning.
Her children were:
1) Sarah, born December 13, 1913. Sarah was the wife of Morris Elman and mother of my cousin Michael, who was born January 6, 1945.
2) Millie, who married Irving Scholnick (my father) on October 29, 1938 in Brooklyn, New York. Their children were Marilyn, born August 18, 1939 at the Brooklyn Jewish Hospital on Prospect Place. Francine was born April 9, 1942 and died April 27, 1982 in New York Hospital (cause of death was breast cancer).
3) Isadore Milton Greenspan, eldest of four sons. Milty, as he was known, was born May, 1917 and died December 1970 of a heart attack. Milty married Dorothy Kaplan and had two sons, Philip and Melvin.
---
END OF ENTRIES